If you are a DJ that is in the market for a new set of speakers, you have come to the right place. We are a community of DJs that are bringing you the best DJ speakers on the market.
When did you decide you wanted to become a DJ? Maybe you got your first taste of bass as a child, attending concerts or events with your parents. Or perhaps you loved to play radio station in your living room, playing musical selections for your family and friends. Then, maybe you moved on to making mix CDs of all your favorite tunes, tracks, and samples.
Either way, you know the feeling of quality speakers. You know what I'm talking about. Where each and every frequency reverberates throughout your body, and in that minute you feel alive and connected to the music in ways you never thought were possible.
In any case, you know how important it is to make sure that you have the right speakers to keep your dance floor packed and to make sure the gigs keep on coming. The investment in quality speakers will pay off over and over in the long run.
GetDJGigs.com is a community funded website. This post contains affiliate links. If you buy something from one of the links, it won't cost you anything more, but we may earn a small commission. We do our best to only recommend the best products for you and appreciate the support. 
---
The 7 Best DJ Speakers
---

Overview
Interested in a speaker that is lightweight and easy to transport but provides the same level of excellence that you'd find in a high-end system? Look no further than the K12.2 from QSC, which combines powerful and professional-sounding performance capabilities with an intuitive interface that's easy to use.
Anyone who's spent more than a few hours delving into the world of DJing will undoubtedly recognize the QSC brand.  Plenty of audiophiles praise this long-time favorite as an industry leader that delivers a best-in-class audio experience. Its K series of speakers consistently receive raving reviews, and the K12.2 is no exception.
The first thing that new owners of this speaker notice? Its portability. Lightweight, versatile, and a cinch to set up, the K12.2 is also built to last.
Don't be fooled by its disarmingly elegant appearance, however. This powerful speaker provides wide dispersion and greater bass extension, in addition to an SPL that tops out at 132dB and a frequency range that goes down to 45Hz.
Among its more notable features, this speaker boasts an impressive lineup of DSP presets. Even a beginner DJ can leverage this wide range to deliver deep grooves without a subwoofer, maximize the speaker's ability to serve as a stage monitor, and achieve just about any other objective, whether FOH in a concert hall or for a backyard BBQ bash.
What about DJs who prefer to dial in their sound on a more granular level? The K12.2 also offers plenty of opportunities to customize crossover, delay, input configuration, EQ, and more — all without sacrificing quality or clarity of sound.
Rugged, durable construction makes the K12.2 a reliable workhorse. Its elegance, simplicity, versatility, and impressive performance make it a trustworthy piece of kit that you'll turn to again and again.
Specs
2,000 watts
12″ LF driver / 1.4" HF driver
Advanced DSP with 11 EQ presets
Frequency response 0Hz–20kHz
Dimensions: 23.7" H x 14" W x 13.8" D
Weight: 39 lbs.
---

Overview
Another storied name in sound, Bose is known for its award-winning Wave tabletop stereo systems. Thanks to innovative designs and unflagging sound quality, the brand has made the leap from industry-leader to household-name and is lauded by professionals and everyday music fans alike.
The F1 Model 812 offers a unique feature: its "Flexible Array Loudspeaker" design is based on the line array sound systems used in concert venues for maximum coverage. No matter what type of space you find yourself spinning tunes in, this sophisticated speaker has you — and your listeners — covered.
That's because it is easily adjustable in four dispersion configurations, with self-adjusting EQ curves for each configuration. Bose's F1 Model 812 boasts eight 2 ¼-inch drivers arranged in a vertical line, with one low-frequency 12-inch driver. Even better, it automatically adjusts the EQ for each unique coverage pattern.
Not only that, but its bi-amplified design means that both low- and high-frequency drivers each have their own power amps. That helps to guarantee a perfect blend of sonic elements across the entire frequency range, with high- and mid-drivers remaining crystal clear. If you need an even wider range, pair it with a Bose F1 subwoofer.
With so much power and performance, you're no doubt wondering how bulky this speaker is, but you can wave goodbye to weight worries. The Bose F1 Model 812 is surprisingly portable. Weighing in at just under 45 pounds and about the size of a large suitcase, it offers the vigor of a 9-array speaker system — making it ideal for anyone who uses a small car to tote their gear around.
Check out the full review.
Specs
1,000 watts
12″ LF driver / 8 – 2 ¼ " drivers
Frequency response: 55 Hz – 14 kHz
Dimensions: 26.1″ H x 13.1″ W x 14.6″ D
Weight: 44.5 lbs.
---

Overview
You know how they say "bigger doesn't always mean better"? And, when you hear that old chestnut trotted out again, you immediately think, "actually, yes it does"? The PRX815W, a full-range speaker from legacy brand JBL, is here to prove your point. Its 15-inch driver is backed by a 1,500-watt, class-D amplifier — and that means bigger, better bass sound without a subwoofer.
Built-in WiFi and a proprietary app called PRX Connect allow you to control presets and EQ parameters remotely. That means you can work your audio magic from anywhere in the room. Fine-tune the details from every corner of the room during your soundcheck, or adjust settings on the fly without having to stay near the speakers.
Another useful function of the JBL PRX815W is the speaker delay, which allows you to sync speakers located at a pretty substantial distance from one another. Other features that set this speaker apart include eight-band EQ, a wide dispersion pattern for excellent coverage, Differential Drive transducers that enable higher SPL in a relatively compact design, and dbx limiting to ensure that sound quality stays high and undistorted even as the volume increases.
This speaker is safely housed inside a durable birch and poplar cabinet so that it can stand up to the rigors of the road. Its universal power supply lets you travel far and wide without worrying about adapters. Weighing in at 47.5 pounds, the PRX815W is easy to transport from vehicle to venue and back again.
Music industry pros have come to rely on JBL as a manufacturer of top-notch equipment. In the PRX815W, this industry icon has achieved the perfect balance between portability and performance.
Specs
1,500 watts
15" LF driver / 5″ neodymium comp driver
Complete wireless control
Frequency response: 50Hz – 20kHz
Dimensions: 17.5" H x 27.6" W x 14.1" D
Weight: 58 lbs
---

Overview
We would say that with the DRM212, ol' Mackie's back in town — except, of course, that this preeminent manufacturer has never left the scene. In fact, Mackie gear is a staple of gigging artists, and the DRM212 is designed to deliver the same high-quality sound and performance you might otherwise only hear in professional touring PA systems.
Read reviews of Mackie speakers, and you're bound to encounter a lot of hyphenated superlatives: top-notch, world-class, state-of-the-art. But do the specs deliver on those promises? You bet they do. We're talking 1,600 watts, adjustable 3-band parametric EQ, 12-inch high-excursion woofer, 1.4-inch titanium diaphragm compression driver (that also happens to be tailor-made for its amp), and up to six user presets.
Oh, and then there's the DRM Control Dashboard, located conveniently right on the back panel of the DRM212 and featuring a full-color, high-contrast, user-friendly display.
This speaker was built to take whatever the road can dish out, with a rugged, texture-coated, 18mm plywood cabinet. Throw in a generous smattering of other assets — blowout-proof protection circuitry, dual-angle pole mount capabilities, venue-specific modes, and dual independent inputs, just to name a few — and you have yourself one impressive addition to your rig.
Specs
1,600 watts
12" LF driver
Control Dashboard
Frequency response: 65Hz – 18kHz
Dimensions: 2" H x 14.7" W x 25" D
Weight: 42 lbs.
---

Overview
If your budget is a little tighter than you'd like it to be, but you are still yearning for the impressive sound and technological chops that JBL is known for, check out the EON 615. Here's an affordable and lightweight piece of gear that can pivot easily from FOH to stage monitoring, and from X to X.
This two-way powered PA speaker offers 1,000 watts, 127dB max SPL, and a frequency response ranging from 50Hz to 20kHz — all tucked into a 39-pound package.
When JBL first designed the EON600 series, they turned to the latest developments in acoustic tech and cabinet materials, along with JBL-designed and -manufactured transducers and proprietary advanced waveguide technology, to build a cutting-edge product.
For the 615, the audio industry leader pushed the envelope even further by adding a kilowatt's worth of Class D bi-amplification to a 15-inch driver and enabling the whole kit and kaboodle with Bluetooth for remote operation.
All of the tech, time, and effort that went into the EON 615 will be apparent from the moment you plug this baby in and cue up a tune. It's got remarkable coverage power, sound that you could swear came straight out of a studio, and an incredibly user-friendly design.
Portable, affordable, and accessible, this is a speaker that will knock your socks off, no matter what the venue or application.
Specs
1,000 watts
15" driver
Bluetooth-enabled DSP control
Frequency response: 0.8 Hz – 20kHz
Dimensions: 27.9″ H x 16.9″ W x 14.5″ D
Weight: 39 lbs.
---

Overview
The word "discerning" might not be the first adjective you'd use to describe a disc jockey but think about it. Don't you spend hours researching new and improved gear to add to your rig? Don't you have frequent discussions with your peers, either online or IRL, to debate the merits of different brands? Most importantly, don't you want to deliver the best possible sound to your audience, whoever and wherever they may be?
Of course, you do, so you are indeed a discerning DJ. That's why, after carefully researching the best DJ speakers, you should consider the Electro-Voice ZLX-12BT.
Long known for its high-quality drivers, Electro-Voice's mission is to bring best-in-class performance to the market. The ZLX-12BT, in particular, is a compact, portable speaker intended to deliver increased power and improved performance. You're in complete control with an intuitive, user-friendly design and an onboard DSP that provides presets for a variety of situations.
This is a powered PA enclosure with a 12-inch woofer and 1.5-inch titanium compression driver. It's one of the most versatile speakers you can buy, with the seeming ability to shapeshift between small-format mains and stage monitoring applications. Whether paired with a subwoofer or on its own, the ZLX-12BT lives up to the hype — and helps you live up to yours.
Specs
1,000 watts
12" LF driver / 1.5" titanium compression driver
Frequency response: 65Hz – 18kHz
Dimensions: 14" H x 24" W x 14" D
Weight: 34 lbs.
---

Overview
Rounding out our list of the best DJ speakers is this member of the delightful, onomatopoeically named Mackie Thump series. As the name implies, the Thump 15A is a 15-inch loudspeaker that provides powerful, heart-pounding sound thanks to a high-output woofer and Class D amplification with Mackie's proprietary Dynamic Bass Response.
But make no mistake, the sheer power of the speaker won't overpower its other desirable qualities. For example, the versatility that its built-in 3-channel mixers, 9-band EQ, and application-specific speaker modes offer. The wireless control you get from using the Thump Connect app to enable channel EQ, wireless streaming, and user presets. Or the ease of setup provided by the XLR thru output and flexible mounting options. Not to mention the next-gen system protection and thermal limiting that keep your gear safe even in punishing situations.
All these features come packaged in a compact, durable, and low-footprint form that comes in under 40 pounds., making it an ideal choice for nearly any event or venue imaginable.
Specs
1,300 watts
15" LF driver / 1.4" titanium driver
Frequency response: 32Hz – 23kHz
8" H x 27.6" W x 15.5" D
Weight: 33.2 lbs.
---
Things to Consider When Buying Speakers
The last thing you want to do is spend a lot of money on gear like DJ mixers and headphones, only to have a speaker system that sounds terrible. To make sure you buy the best speakers for you, consider these following questions.
First, will these speakers be used indoors or outdoors? Or both?
Inside, sound has a lot of things to bounce off of and can contain the volume. Unfortunately, outdoors sound tends to dissipate really fast. If you are using your speakers in large outdoor areas, you want to make sure that your system has enough power to be heard at the back of your venue.
Secondly, how big are the venues where you will be using them?
If you plan to use these speakers in your bedroom, it would definitely be overkill. So adjust accordingly, larger venues may even need 4 speakers, or even an added subwoofer to make sure you have enough power.
Finally, will you be transporting these speakers or will they be stationary?
If these speakers will be installed in a bar or club, then you only have to set them up once.
On the other hand, if you are a mobile DJ, you need to transport them and set them up and break them down at every gig. This brings up another question about whether they will fit in your car or trunk. Usually, in this case you want to make sure they fit in whatever transport area and that they are light enough to move freely.
If you can't lift up your speakers to put them on stands, that could be a problem.
How To Take Care of Your Speakers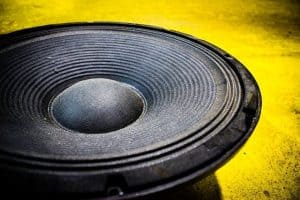 Let's be honest, good speakers aren't cheap.
But the good news is that if they are well taken care of, they should last you a long time and have decent resale value. Here are three ways that you can ensure you get the most life out of your new speakers.
First off, make sure your speakers are protected when not in use. This means be careful not to drop them, keep them stored in a safe place, and use covers. Speaker covers are an excellent and economical way to protect them during transport.  We highly recommend them.
Secondly, keep them dry. If you are using them outdoors for weddings and pool parties, be mindful of the weather. Also, they run the risk of getting wet at pool parties. Electronics and water never goes well together.
Finally, and most importantly, keep everything out of the red. If you are running your system hot, you have a chance of outright blowing your speakers. Even if it does not outright blow them, over time it will decrease their lifespan.
Additionally, clipping signals never sound good. So don't run your DJ controller or mixer in the red either, it will distort the signal and make it sound bad. By choosing the right speaker for you, you can keep your speakers at a reasonable volume and have them perform well.
Passive vs. Active Speakers
All of the speakers on this list are active speakers.
That means that they have built in amplifiers to power them, which is why they are also called powered or self-powered speakers.
DJs often use these type of speakers since there is less gear to transport and they are easier to setup. Also, the volume and adjustment controls are on the back of the speaker, so it makes adjusting the frequency controls and loudness a breeze.
If you choose to go the route of purchasing passive speakers, just be aware that you will also need to purchase a quality amplifier to power it.
Conclusion
Which of these speakers is the ideal choice for your setup?
That depends on so many variables, including where you DJ, the type of music you play, your experience level, your preferences, the amount of traveling you tend to do, and even the vehicle you drive.
While all of the speakers we've included in this list are good all-around options, some might be better suited to your individual style and needs. Once you've considered all the factors, know that all the options above are the cream of the proverbial crop — you really can't go wrong with any of them!