If you are looking for the best DJ mixer, then you have come to the right place. At GetDJGigs, we are a collection of DJ's with many years of collective experience that know what to look for when buying DJ gear.
We have either personally owned these mixers, used them in our bar and club gigs, or have tested them out.  And we are passing this information on to you so you can know that you are choosing the right DJ mixer for you.
The DJ mixer is the centerpiece that links all of your gear together, so getting the right one is crucial. If you buy the wrong one, you run the risk of it breaking in the middle of a DJ set or just sounding terrible.
Ultimately there are a lot of factors that play into choosing the right one. Sound quality, reliability, quality construction, options, effects, and inputs are several of the most important things to consider when looking for the best mixer.
In this article, we do our best to simplify everything for you, so you can do what you love, which is playing some dope music to crowds.
GetDJGigs.com is a community funded website. This post contains affiliate links. If you buy something from one of the links, it won't cost you anything more, but we may earn a small commission. We do our best to only recommend the best products for you and appreciate the support. 
---
The 9 Best DJ Mixers Revealed
---

Overview
This model from Pioneer is the latest version in a long line of industry standard professional mixers. In other words, most clubs will have this as their main piece of gear, and for a good reason.
Right away, you will notice that the sound quality and construction are unmatched. Here are the top 4 features that make this mixer the best.
Sound Quality
First off, in this mixer, they installed a 96kHz/24-bit sound card. That ensures that what is coming out of the DJ speakers is the best in terms of clarity and warmth, so you can be sure there won't be any unwanted noises and sounds.  Ultimately, it helps bring out the best in your mixes and translate it onto the dance floor for maximum impact.
Reliability
Secondly, everything in this mixer is reliable and works well for everyone. When you are mixing tracks, you can be sure that each tweak of the crossfader and the EQ knobs will help progress the mix. We also like that you can adjust the crossfader curve to suit your style, and there is no bleeding if you are scratching and making quick transitions.
Effects Options
Third, this mixer has plenty of effects options to enhance your mix and breathe new life into songs that uplift the crowd.  The first effect option you will notice is a color knob on each track. This can be adjusted between filter, sweep, crush, dub echo, noise,  and space. These are especially great for helping with track transitions and the flow of energy.
Also, there are beat FX that you can adjust to the bpm to create production style effects in a live environment. We especially like that these are really simple to use and have a lot of options. You can easily switch between effects and choose whether you want them to go over individual tracks, the master, and even the mic inputs.
Inputs/Outputs
Finally, this mixer has plenty of inputs and outputs to satisfy the most complex DJ setups.  Whether you are running CDJ's, turntables, or even midi instruments, this mixer can handle all of them at once. With dual USB ports and dual headphone jacks, it makes for easy switch-overs when using in back to back sets.
Who is this mixer for?
This mixer is for the experienced club DJ. This is the mixer you will find on most main stages of large nightclubs. With 4 channels and plenty of inputs and outputs, house DJs and DJs that use various audio sources will love this mixer.
Highlights
Superior Sound Quality
Solid build
Wide range of effects options
4 Channel
Drawbacks
---

Overview
If you are looking for the best battle mixer on the market, then look no further. This DJ mixer combines all the amazing qualities of the best DJ controllers and fits it into a high performing two-channel mixer.
First off, his incredible sounding mixer from Rane is the newest model in a long line of quality products. Although the Rane sixty-two was lacking in some areas and felt kind of cheap, the 72 comes back to form with a solid steel construction that is built like a tank.
Seriously, this mixer is solid.
The pads are Akai Pro MPC performance pads and are easy to press and have a great feel. Also, the MAG FOUR faders feel like butter and seamlessly blend tracks. They really stepped up their game in several key areas.
Secondly, true to form, the sound quality of this mixer is impeccable. It delivers a full and warm sound time after time, even at high volumes. So you can always be sure you are giving your best performance to your audience.
Finally, we love that you can use the 8 dedicated pads per track to use as hot cues, slicers, and rolls to keep your mixes right on point and fresh. This makes this mixer excellent for integrating with turntables and for the scratch enthusiast.
Who is this mixer best for?
This mixer is best for the DJ who does it all, especially wedding DJ's. Open format DJs and DJs who scratch will especially love this mixer. Finally, since it is a Serato mixer, Serato lovers will gravitate here.
Highlights
Incredible warm Rane sound
Seamless integration with Serato DJ Pro
8 Multi-use Pads Per Track
Solid Steel Construction
Drawbacks
The touchscreen isn't the greatest
Have to take the mixer apart to change crossfader tension
---

Overview
Coming in at number 3, we have another piece of gear from Pioneer. Although much smaller and more straightforward than the DJM-900, the DJM-S9 is still high quality.
This 2-channel battle mixer is more similar to the Rane-72 in terms of overall functionality and performance. You will notice it right away with the Serato logo in the bottom left corner and the 8 colored midi pads.
Most scratch DJ's enjoy the light crossfader and notice that it makes it easy to perform complex scratch routines. Also, it is nice to be able to adjust the crossfader tension on the fly, whereas one the Rane-72 you have to take apart the mixer to adjust the tension.
This is especially useful when multiple DJs are using the same mixer in back to back sets.
Although overall, it has better effects and is a little smaller and lighter than the seventy-two, we rated it lower for a few reasons. First, it has more plastic parts than its counterpart and felt a little more flimsy. Secondly, it only had a single microphone input, which could limit wedding and private party DJs that use both mic inputs.
Who Is It Best For?
This mixer is best for DJs that play a wide variety of music and focus on quick transitions and scratching. Secondly, DJs who mostly perform at bar and club gigs will appreciate this mixer, and its smaller size can fit into some of the best DJ backpacks for easy transport. Finally, since it has seamless integration with Rekordbox, it is ideal for DJs who prefer that software.
Highlights
2-channel battle mixer
Light and buttery crossfader
Excellent effects options
Simple and streamlined design
Drawbacks
1 microphone input
No screen
---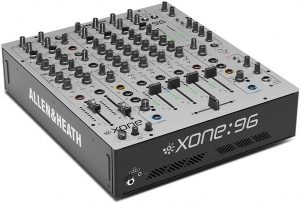 Overview
This analogue DJ mixer from Allen and Heath is an audiophile's dream. Featuring a dual 32-bit 24 channel soundcard, the audio that is output from this piece of gear is heavenly.
The first thing you will notice is that this mixer looks and feels more like a traditional soundboard.  So, getting all your external gear routed through this mixer is simple with four stereo input channels, two fully featured stereo returns, and two auxiliary stereo returns.
But what really sets this mixer apart from the rest is 4 band equalizers for perfect sound sculpting and transitions. Also, the dual VCF filters can be set to low-pass, hi-pass, and band-pass for some radical effects. You can also use the CRUNCH feature to add some wild harmonic distortion and power up your tracks.
Who is this mixer for?
This mixer is ideal for audiophiles and for DJs that make long transitions between tracks. Using the 4-band equalizer comes in real handy when mixing techno, house, and drum and bass.
Highlights
Dual soundcard for superior audio
4-band equalizer
Award for Ultimate Club Mixer in 2018
Maximum Input/Output connectivity
Drawbacks
Bulky
No hot cues
Difficult to use for beginners
---

Overview
Denon has really upped the ante with their new line of Prime equipment, and they are going to be giving Pioneer a run for their money. With an ever growing list of big name DJs using their gear like Laidback Luke, will we see Denon take over and become industry standard?
It is definitely possible. The new Denon SC6000 media players and this mixer are taking it to the next level.
First off, it supports multiple versions of DVS software, including Serato and Traktor.  Secondly, it has all the features you would want on a mixer and all the inputs and outputs. This includes 2 microphone jacks and 2 USB jacks for multiple computers. Finally, this mixer is built to last. You can immediately tell that it is made from high-quality materials. Also, this sound produced by this digital mixer is up to par with the Pioneer and Rane mixers.
With tons of awesome effects options and a great layout, it is amazing that it comes in at a superb price. The only thing that might hold someone back from buying this Denon mixer vs the Pioneer DJM-900nxs2, is that Pioneer is "industry standard". But at half the price and more potential, we think it might be the right choice.
Who is this mixer for?
This mixer is for the DJ who likes to be at the forefront of innovation. Also, professional and intermediate DJs looking for a cheaper alternative to the Pioneer DJM-900nxs2 will love this mixer.
Highlights
Compatible with Serato and Traktor
Full featured mixer with incredible effects
Best value
Drawbacks
Not industry standard (yet?)
---

Overview
At number five, we have another full featured Serato battle mixer from Reloop. Even though Reloop doesn't have as big of a name as Rane or Pioneer, make no mistake about it, this is a quality DJ mixer.
At first, you will notice that it is larger than the Pioneer DJM-S9. Although it does make it a little more clunky and heavier, it also gives it some advantages.
First off, it makes everything a little less crowded so you won't hit the wrong button by mistake. Also, the pads are larger. Finally, you have 2 separate OLED displays that show you real time information like BPM, effects, and setup options.
Another difference you will notice is that this mixer has 2 USB ports on the mixer's back to plug in external devices like midi controllers and smartphones. These were specifically designed for seamless integration with Reloop turntables such as the RP7000 and RP8000.
Overall, the main reasons it is rated below the other top-tier battle mixers are that we liked the sound quality and better effects on the Rane Seventy-Two and the S9.
Who is this mixer for?
This mixer is perfect for the DJ who is also using the Reloop turntables. Also, due to its weight and size it is better to be used in a location where it doesn't need to be moved much. For this reason, it is ideal as a home DJ setup or the house mixer in a bar or club.
Highlights
Seamless integration with Reloop turntables
Extra-Large pads and spacious buttons
Better price than similar mixers
Drawbacks
Not the greatest effects
Bulky and Heavier
---

Overview
The Traktor Kontrol Z2 is a live remixer's dream come true. This great piece of gear has everything that a traditional mixer has, but adds a whole new set of options to alter and edit tracks on the fly.
Although this is a 2-channel mixer, it also has 2 remix decks that provide total essential control for manipulating and improvising in real time. Traktor Scratch Pro 2 is included with this mixer to utilize the full functionality.
Although this mixer can be used with CDJs or turntables, it really shines if you are using other Native Instruments gear like the F1, X1, and Maschine.
In regards to the build, everything is solid. By using Innofaders, you know that they are reliable. You can also feel from the structure that it is a sturdy piece of equipment since it is built from aluminum. One complaint that users have is that the paint sometimes comes off near the faders.
It is worth noting that this mixer was launched in 2012, so the ones above are newer and are overall higher quality.
Who is this mixer for?
Since all the mixers listed above are higher quality, this isn't really a club mixer and won't be industry standard. Since it does come in at a lower price point than the ones listed above, this DJ mixer is more for the hobbyist and DJ who is just playing small gigs. Also, users who have other Native Instruments gear and enjoy live remixing will especially like this piece of equipment.
Highlights
Works well with other Native Instruments gear
Solid build and construction
Decent Price
2 Remix decks for use in Traktor Scratch Pro 2
Drawbacks
Older mixer
Heavy
Lack of equalizers on remix decks.
---

Overview
Think of the Pioneer DJM-450 as a scaled-down, 2-channel version of the DJM-900nxs2. With the same durable build and faders, it is still a great piece of gear.
Since there are fewer features and channels, the mixer is also smaller and lighter. This makes it perfect for the mobile DJ who is playing events and parties. The main downfall is that it doesn't have a booth output, so don't plan on using it in clubs and bars where you need monitors to hear your mixes accurately.
With all that being said, beginner house and techno DJ's will love this mixer's price, which makes it an excellent entry-level option.
Who is this mixer for?
Since this mixer does not have a booth output, you will not want to use it in a bar or club setting. Therefore, it is ideal for a bedroom or mobile DJ. If you are a beginner DJ looking for a great mixer to learn on, and possibly later upgrade to the Pioneer DJM-900nxs2, then this might be the one for you.
Highlights
Same solid build as higher-level Pioneer mixers
Entry-level price
Quality sound
Drawbacks
No booth output
Fewer effects and other options compared to higher-end DJ mixers
---

Overview
The Numark Scratch is so much more than you would think, and overall it is the best entry level mixer. Contrary to what the name would lead you to believe, this mixer is not just for scratch enthusiasts.
With a whole list of inputs and features, it is impressive that it comes in at such a low price. First off, it still has EQ knobs, effects, filters, booth outputs, and cue pads like the higher-end mixers. Although many of these features are not as versatile and complex as the more expensive options, they will definitely be enough for many DJs. One drawback is that many of the buttons and knobs are a little small, but that does allow for more space, so you are not hitting the wrong button.
Other things that stand out on this mixer are the Innofader, which is the same high quality fader you will find on some top tier mixers. Also, the build quality is definitely reliable, and it also includes booth outputs for use with monitors.
All in all, this is a great entry-level mixer. Just don't expect it to be the same quality as the best in class mixers.
Who is this mixer for?
This mixer will be excellent for mobile DJs who are on a budget. Also, higher level DJs who are looking for an economical backup unit will love the Scratch.
Highlights
Great value
Top tier fader
Drawbacks
Smaller buttons and knobs
Volume lights are all red, which makes it hard to know when clipping
Single mic input
Single computer input
---
What is a DJ Mixer?
An excellent way to think of a DJ mixer is like a small soundboard with a crossfader. They take inputs from various audio sources, which are then sent to specific channels so the audio can be manipulated.
The most common audio inputs are turntables and CDJ's, although XDJ's and midi devices are becoming more popular. Many of these mixers can be used with or without a computer.
After the signal is sent to the mixer, there are many ways to transform the audio. These include adjusting the volume and gain, manipulating the equalizer, and adding effects.
By using various techniques, skilled DJ's use the mixer to seamlessly blend multiple songs together to create a sonic masterpiece that will thrill crowds and energize dance floors.
What are Some Things To Consider When Buying a Mixer?
The three most important things to consider when buying a DJ mixer are your skill level, the type of music you mostly play, and the type of software you use when playing. Let's take a look at why these are important.
1. Skill Level
First off, your skill level should be a large factor in the type of mixer you choose. If you are just learning to DJ, most of these mixers on this page probably aren't for you. These complicated pieces of hardware range from a few hundred dollars to a few thousand dollars.
It doesn't make sense to purchase a higher-end unit if you are unsure that you want to be a DJ. Also, the higher end mixers will be too complicated for a beginner. Generally, it is best to start simple and work your way up.
2. DJ Style
Secondly, the type of music you play and your mixing style will narrow down your options. Loosely speaking, house/techno/dnb DJs tend to prefer the 4-channel mixers so they can layer tracks. This helps when making longer transitions between songs.
On the other hand, hip-hop and pop DJ's often prefer the battle mixers. The battle mixers have hot cues which help when making quick transitions and doing cuts while scratching.
3. Software
Finally, if you are dedicated to a particular digital interface then you are limited to a mixer that supports that software. In other words, if you use specific DJ software program, make sure that you purchase a mixer that is compatible with it.
Conclusion
Whether you are a beginner DJ or a seasoned professional, we have included options for everyone on this list. If you are like me, the joy of getting a new piece of gear sends a rush of endorphins through your body.
With new features and new layouts, the creative juices start to flow and your DJ sets climb to new dimensions. In the end, by having knowledge of various gear, you will become a better DJ and have better sets.