If you are looking for the best DJ lighting to take your DJ sets to the next level, then you have come to the right place. We have included a variety of lights that will work in backyards, wedding venues, bars, and clubs. This way, you can be sure that you will find something to fit your needs on this list.
Although this often goes overlooked, having the right lights can mean the difference between throwing the best party that people rave about and looking like an amateur. If a room is properly lit, guests will know it the minute they step into the room.
From spectacular light displays to subtle uplights that accentuate certain areas, different lights serve different purposes. Knowing when and how to use your lights is definitely key, but in the end lights help to highlight certain areas, provide entertainment, increase the energy level, and set the mood.
All in all, people that attend your events will have more fun and enjoy themselves by having the right lighting. And that means that you will book more gigs, get more referrals, and make more money.
In other words, you want to make sure you get this one right.
GetDJGigs.com is a community funded website. This post contains affiliate links. If you buy something from one of the links, it won't cost you anything more, but we may earn a small commission. We do our best to only recommend the best products for you and appreciate the support. 
---
7 Best DJ Lights
---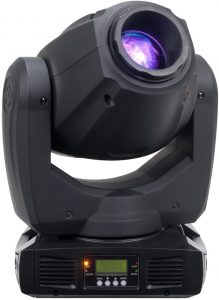 Overview
Moving heads are the pinnacle of DJ lighting. If you have ever gone to any club, chances are that you have seen moving heads in action.
These versatile lights are attention grabbers. They can be used as strobe lights, spot lights, and even display words with customized gobos. Brides and grooms love this feature, and for this reason, moving heads are often featured at high-end weddings.
Since it comes programmed with 4 built in lighting shows, it doesn't take much to get this light to do some cool stuff. But if you want to enjoy the full functionality of these feature-rich DJ lights, you are going to have to do a little learning.
Once they are set up, you can create your own programs and run them, integrate them with a DMX control board, or even run them in sound activated mode. It is up to you.
In the end, having a few of these awesome lights will increase your gig fee as bars and private parties will shell out the extra money to have this option. Not only that, but it will help you position yourself as a serious DJ in the local industry.
Highlights
Multi-featured light used by top-tier DJs
Sound active, DMX, and programmed operational modes
Gobos can produce different designs and images
80 Watt LED source light
8 Different color options
Drawbacks
Need to learn all the features
Usually bought in pairs (2, 4, 6, etc)
---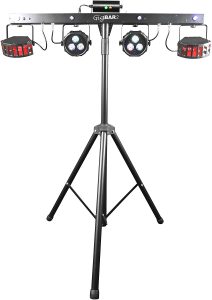 Overview
This all-in-one lighting system from Chauvet makes it easy if you are looking to purchase one piece of lighting gear that does it all.
With 2 tri-color pars, 2 derby lights, 4 strobe lights, and a laser, you have a total of 9 lights to illuminate your stage or venue the way you want. Operation of this lighting system is easy and fun. You have your choice of using the included IRC-remote control, included foot pedals, or DMX controls to manipulate the lights as you wish.
Did we mention that it also has sound activated mode?
We also love that this setup is easy to install, carry, and travel with. First, it comes with a nice carrying case that neatly fits everything inside. This makes packing and unpacking it a breeze. Secondly, with two tripods that it mounts on top of, setting it up and breaking it down can't be easier.
Usually, a DJ would setup this truss system behind the DJ booth for maximum impact. Since the tripods extend to over eight feet tall, it is high enough to project over the top of your head.
Highlights
All-in-one system so you don't have to buy and transport multiple lights
9 different lights in package
Control by remote, foot pedals, or DMX
Comes with a carrying case for easy transport and storage
Easy to use right out of the box
Drawbacks
Doesn't include moving heads
No dimming options on lights
---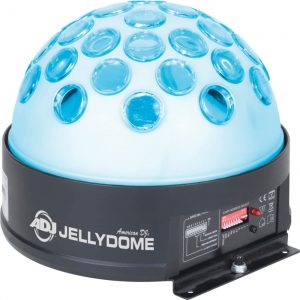 Overview
The jelly dome from American DJ is the best entry-level light for mobile DJs. With 34 LED light beams, it resembles a disco ball. But it is so much cooler.
For such a small single light, it is pretty versatile. It has the option to display 7 different colors, can spin in forward or reverse, has different speeds, and even has pulse and strobe effects.
These options can be calibrated from the pins on the side of the unit, with a remote control (not included), or with DMX. Also, it has a sound activated option as well.
It is perfect for mobile DJs because it is lightweight and small. At only five pounds in weight, it can be easily attached to your speaker stand with the included clamp. For beginner DJs, it is a good purchase for your first light.
Bringing this to a gig will set your apart from your competition. Although this light will usually not directly be an upsell to charge more money for events, it is nice to tell clients that you bring basic lighting. They will appreciate the added value. Plus, if they desire more, you can always upsell them on moving heads or uplights lighting.
Including a light like this at your gigs will increase the chances that you get rebooked by the client, or more referral business, which in the end means more DJ gigs for you.
Highlights
Great entry-level light for mobile DJs
Easy to use right out of the box
Lightweight and easy to mount
Drawbacks
Doesn't come with a case or remote
No digital display
---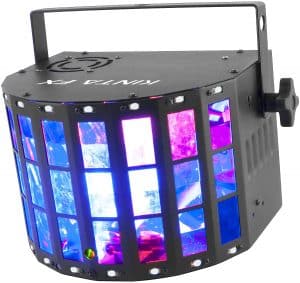 Overview
This combo light from Chauvet is a derby light, strobe, and lasers all built into the same unit. This makes it another great options for mobile DJs.
Highlights
Multi-function light with derby, strobe, and lasers.
Lightweight (3.8lbs)
Drawbacks
A bunch of units do not work properly, so you might have to send it back until you get one that works correctly.
Carrying case and remote sold separately
---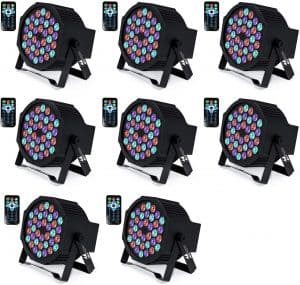 Overview
Uplights are a great addition to round out any DJ's lighting system. If you are unfamiliar with uplights, they are often strategically placed around a room to accentuate different things and set the mood.
Walls, columns, and curtains are some things that are usually uplit. As the name describes, these lights are usually placed on the ground facing upwards on an angle to illuminate the area.
This effect is really popular with weddings and private events light sweet sixteen parties. At these type of events, you typically match the lighting to the color theme of the party, which helps bring the entire room together.
Usually, if a customer wants uplights, it is an additional charge. So having a set of these lights can earn money and even rental income of other DJs want to use them for an event.
This 8 pack of uplights from Missyee can be controlled by DMX or by sound activation if desired.
Highlights
Settings can be adjusted by remote control.
365 day guarantee
Excellent value
Drawbacks
Not battery powered, so each light has to be near an outlet.
---

Overview
The American DJ mega bar 50 is a 22 inch bar light that is great for adding a wash effect.
There are two primary scenarios where a light like this would be used by a DJ. First, these light bars are excellent for stage lighting. This can come in handy in bars and nightclubs.
Secondly, it can also be used to wash the walls with color in the same way an uplight would be used. This style of light would be ideal for lighting up your DJ facade from behind to make a nice effect.
Compared to an uplight these are a lot larger and brighter, so it would be used to cover more surface area than an uplight.
Highlights
Doesn't get real hot like traditional stage lights
LED display on rear panel
Multiple usage modes
Strobe and dimming effects can be useful for some DJs
Drawbacks
---
Why Should I Buy Lights?
There are many reasons to use lighting in your DJ sets. Let's take a look at them in more detail.
1. Accentuate the Theme and Mood
First off, lighting can set the mood. The easiest way to explain this is by having red lights at a Valentine's Day party or orange lights at a Halloween party. By properly lighting the room, everything will make sense for the guests and the room will have cohesion.
2. Direct People to a Particular Area
Like moths to a flame, people are attracted to lights. Especially in dark rooms, lights can direct people where to go and look because they can see what is lit up from far away.
Spot lights come in handy when lighting up speakers performers. One instance this comes in handy is during wedding speeches and toasts.
Also, in this regard, lighting helps to get people on the dance floor. When the rest of the lights in the room are dull, people will automatically get attracted to a lit up dance floor. This helps everyone mingle and have a great night, and clients will love you and for it.
3. Increase or Decrease the Energy Level
A great DJ will know when to use the right light at the right time to match the energy level of the room for the right moments.
For example, as guests are entering early in the evening warm lights will give everyone a welcoming feel and make them feel comfortable. On the other hand, at peak hour when you are dropping bangers, strobe lights and other high energy lights will increase the energy of the room.
Many of the lights we have included on this list are sound activated so they can match the beat of the music. Just make sure that they are close enough and the microphone is pointed to the DJ speakers for it to work properly.
4. Provide Entertainment
Complex and innovative lighting is a method of entertainment. People like to watch cool light shows.
Whether that is using your moving heads in a creative way or using 3d lighting like Eric Prydz, people enjoy seeing a cool light show. That is why clubs like Omnia spend extraordinary amounts of money of their lighting rigs.
And since our job as a DJ is to provide entertainment, we need to start thinking about other ways to provide entertainment besides playing music.
Conclusion
Depending where you are in your DJ career, one of the lights we have listed on this page will be an excellent addition to bring your DJ setup to the next level. Ideally, the more lights you have, the better equipped you will be to light any room and event properly.
In the end, by having the right lights for every occasion, you will be viewed as a professional DJ who knows what they are doing. This will lead to happier guests and clients, which in the end, will lead to a busier calendar.