Are you looking for the best DJ headphones for your latest gig? Then look no further, because we have reviewed the thirteen best headphones that are used by DJs worldwide.
These models are proven to be of the highest quality, so you can be sure that they can be relied on to help you prepare your mix and cue up the next track. We have listed various types of models so you can find the right one for you. This includes headphones at various price points and well as a selection of both on-ear and over-ear cans.
If you are an experienced DJ, you know that having high-quality headphones is a must. DJs need something that will sound excellent, but also be comfortable while wearing for long sets.
On the other hand, if you are a newcomer to the DJ scene this is a great place to start. We have simplified everything so you have the best starting point to make the right choice.
In the end, we know that having the right equipment is crucial to your success.
GetDJGigs.com is a community funded website. This post contains affiliate links. If you buy something from one of the links, it won't cost you anything more, but we may earn a small commission. We do our best to only recommend the best products for you and appreciate the support. 
---
13 Best DJ Headphones
---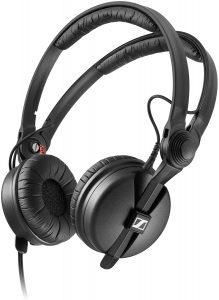 Overview
If you are looking for the absolute best headphone, then you don't need to look any further than the tried and true Sennheiser HD25 headphone. These headphones have stood the test of time for over 20 years and can be seen on DJs in many nightclubs and bars.
The Sennheiser HD25 is a low-weight set of closed-back headphones suitable for beginners and seasoned professionals alike. These extremely robust headphones can handle extreme sound pressure and have superior sound muffling for excellent performance in loud environments.
The high attenuation of background noise combined with the swivel one-ear use option also makes these ideal for DJing in any environment.
Features
Lightweight, aluminum voice coils deliver high sound sensitivity for extreme precision when it comes to pitch and key differentiation. Professional-grade construction allows these headphones to manage high sound-pressure levels. The comfortable design will enable DJs to wear these HD headphones for hours without discomfort.
The lightweight, durable design makes the headphones resistant to breakage even if dropped. The single detachable cable is extra-tough to help prevent twisting or fraying. It attaches on one side only for freedom of movement. A rotatable capsule provides for single-ear listening at any time with a quick flip.
These headphones will last for years if properly cared for and handled. The comfortable fit means that you can wear them hour after hour, night after night, as needed. If you need a pair of reliable workhorse headphones, the Sennheiser HD25 fits the bill.
---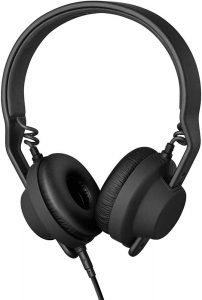 Overview
The modular AIAIAI TMA-2 product allows you to completely customize your DJ headphones or choose from pre-configured options based on your personal preference and needs. You can design your dream pair of DJ headphones or add to a pair you already have, with lots of accessories from which to choose.
The goal behind the TMA-2 is less waste in the industry overall. The brand has designed the perfect pair of headphones for you, so if you take good care of them, they should last a long time before needing replacement. Since parts are interchangeable, these are also the most repairable headphones on the market.
Features
The preassembled options give you plenty of choices. Choose the TMA-2 HD Wireless for the ultimate listening experience, with detailed, precise sound transmitted in HD. The over-ear cushions are memory foam for a perfect fit.
The TMA-2 Comfort Wireless delivers comfort and clarity during extended listening sessions. High-quality wireless audio is transmitted via Bluetooth 5.0, resulting in a sound representation that is powerful and vibrant.
For a balanced sound representation representing all genres with equal suitability, the TMA-2 Move Wireless is ideal for wireless listening anytime and anywhere. The 20-hour playback time means road trips will not be an issue.
---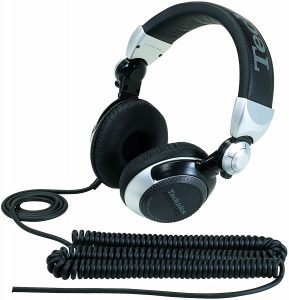 Overview
Technics RP-DJ1200 headphones are perfect for DJ and performer use and have excellent frequency response. Pros and amateurs moving up to the next level alike can appreciate this high-quality gear. These headphones are ideal for use in a club environment, meeting the most rigorous audio and durability qualifications.
Features
A classic folding design has swiveling earcups for free-style monitoring thanks to a convenient swing-arm mechanism. Technics includes a carry case to protect your investment. The set packs away neatly in your DJ backpack for easy transport. The headphones themselves meet splash-proof specifications for high perspiration resistance in a crowded host environment.
A dynamic driver and multi-film diaphragm deliver an exceptional music-listening and monitoring experience. Magnetic circuits facilitate smooth sound and allow you to hear every detail. Super-tweeters provide ample extension into high-frequency ranges.
Every pair of Technics RP series professional DJ headphones has a high-input and wide-frequency-range driver unit. The twist-in-type plug adapter and a gold-plated L-plug prevent damage at the input point, and the coiled cord gives you mobility without tangling or creating a trip hazard. Their high-power handling capability makes these headphones perfect for all-night mixing.
---
Overview
The V-Moda Crossfade M-100 delivers a crystal-clear, distinct sound that is universally respected and trusted by DJs worldwide. This set is a premier choice for the serious mixer, developed based on the feedback of audiophiles, musicians, DJs, and editors to create optimal music experiences. Often described as a "cult favorite" in the DJ world, the M-100 boasts a passionate and engaged following.
Features
The sound signature reflects the classic V‑shape, punching up the bass with rich, complex notes and delivering an immersive, 3D soundstage feel for superior performance in club settings. Be sure to utilize dual inputs for cable-setup customization and take advantage of top-grade noise isolation. The minimalist design makes these headphones lightweight, sleek, and portable.
Ergosoft Foam cushions ensure that you can wear these headphones for hours, concentrating on pure analog. The metal-core headband is flexible and can even flatten ten times without breaking. The reinforced cables can bend and flex without cracking, leading to thousands of hours of use.
All materials used in the Crossfade M‑100 represent durability, comfort, and aesthetics. Years of research back the unique design, and the company has tested each set of headphones for compliance with strict durability standards.
The Exoskeleton carrying case that comes with the V-Moda Crossfades has a patented CliqFold hinge and a carabiner clip. Simply fold your Crossfades into the case and then pack away or clip them to your gear bag for simplified transport and easy access.
---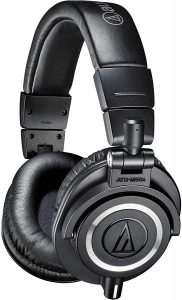 Overview
The ATH-M50x is a premium set of professional monitor headphones with the well-known Audio-Technica sonic signature. Pro-grade materials give them a long lifespan and prevent the constant need for replacement. These headphones deliver highly accurate audio and maximized comfort. They also meet the lofty standards set by even the most critical audiophiles.
Features
A significant benefit of the ATH-M50x is the detachable cables, which cut down on damage done if a cord gets caught or trapped. Contoured, sound-isolating earcups allow for minimal bleed, keeping your focus on the music.  The large aperture drivers and robust construction marry with the closed-back design and perfect sound quality to produce a professional performance standard that is pure and stress-free.
---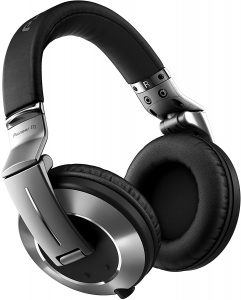 Overview
Maximum comfort, highly optimized audio quality, a robust build, and extreme sound isolation are hallmarks of the Pioneer HDJ-2000MK2. Clear sound separation produces crisp, clear audio that punches out crisp trebles underlined by pounding bass. The result is a pristine sound that is easily monitored, even in a crowded club environment.
Features
Airtight stitching and low-volume air chambers enhance sound insulation, dampening mid- to low-frequency external noise. You can monitor even in a rowdy club atmosphere without having to crank up the volume to deafening levels.
With the lightweight headband and hanger bound for comfort, there's little-to-no pressure on your head. The earpads are soft and leathery for a snug, comfortable fit. Thanks to the forward-thinking design, you can wear these headphones for hours and barely know they are there.
A full 90-degree swivel in each ear cup coupled with an auto-return feature allows you to monitor "on-the-shoulder," and an L-type mini-jack prevents headphone disconnection in crowded rooms or narrow stalls. You can take these headphones from the club to the studio for all-day wear, using the hard carry case. Remove the detachable mini-XLR connector for safe cable storage during transit.
---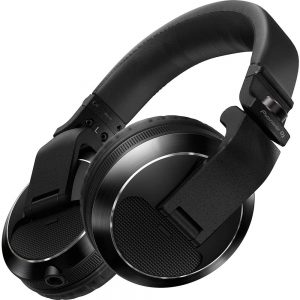 Overview
DJ feedback was crucial to the redevelopment of these Pioneer headphones. Newly developed drivers handle high volumes, without missing a beat, to deliver clean monitoring. An independent ground wire nestled in the four-core twisted-structure cable means that you always get excellent channel separation
Features
The flexible nature of these headphones ensures your comfort at all times. The headband achieves a perfect fit without slipping, and the swivel mechanism allows prolonged wear without any trace of discomfort as you switch from position to position. This gear even passed the U.S. Military Standard Shock test for proven durability.
A 50mm driver, optimized diaphragm, and bass reflex chamber promote clear sound for real-time monitoring. The detachable 1.2m coiled cable prevents trip hazards and tangling, and the package also includes a 1.6m straight cable. The L-type mini-jack reduces the risk of an accidental disconnection in the middle of a set.
---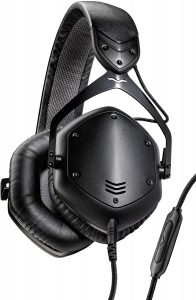 Overview
These classic over-ear headphones deliver Live Play sound so you can work with conditions precisely as they would be on stage. The familiar V-Moda ergonomic shape ensures comfort, while the Ergosoft foam filters out background noise. If you need first‑class noise isolation so you can focus, these headphones are for you.
Features
Musician and DJ input guided the development of freshly engineered 50mm dual‑diaphragm drivers. Your bass notes will be vibrant, your vocals pristine, and your cymbals and hi-hats clear and crisp.  The immersive 3D soundstage lets you log hours of realistic experience.
The SpeakEasy™ 1‑Button Mic Cable facilitates communication at all times. The Audio-Only Cable delivers pure analog sound. Pair this rig with a BoomPro Microphone and iOS-capable Speakeasy DAC/AMP Lightning Cable for studio‑quality sound.
---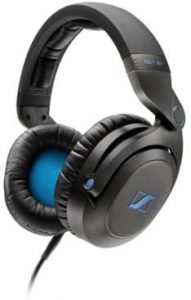 Overview
Working DJs will love the Sennheiser HD7 that the brand has designed just for them. With striking sound quality, the bass is powerful and accurate for superior mixing. Take your career to the next level with this professional-grade gear.
Features
Every part of the HD7 DJ is durable and lightweight. The ear cups rotate 210°, and cushions deliver superior comfort, fit, and noise isolation. You can achieve fluid one-ear monitoring, drop them to your shoulder in a safe-carry position, or reduce background noise with full-coverage wear.
Loud, high SPL makes these headphones ideal for noisy DJ environments, providing a safe listening experience with no need to crank up the volume in noisy venues. 95-ohm impedance delivers across-the-board compatibility with most DJ equipment.
---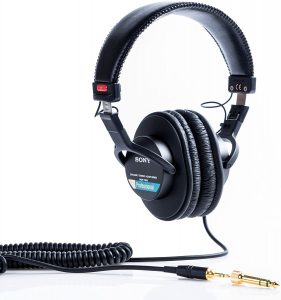 Overview
Sony's MDR-7506 headphones are a popular choice for professionals looking for versatile, professional, studio-monitoring gear. These headphones are perfect for focused listening since they deliver impressive sound isolation. The comfort of wear is hard to beat, letting you easily complete prolonged tracking or mixing sessions.
Features
The traditional closed-back design provides a consistent listening environment. Extra-thick ear cups keep sound from leaking out into microphones. This professional-grade gear offers exceptional sound quality across multiple applications and can become an indispensable addition to your DJ kit.
Large, well-tuned 40mm drivers will never let you down when it comes to crystal-clear sound delivery. The Stereo UniMatch plug fits both 1/4″ and 1/8″ headphone jacks. The oxygen-free copper cording and gold connectors give you excellent sound transmission and frequency response across the audible spectrum.
---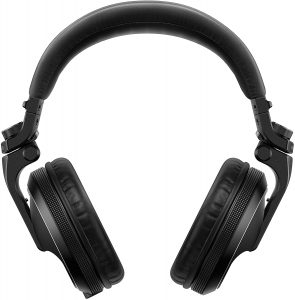 Overview
You need superior performance whether you're on stage, on the move, in the booth, or behind the turntable. The Pioneer HDJ-X5 delivers. Pioneer created these DJ headphones based on the feedback of multiple DJs with different monitoring styles. The phones ensure distortion-free monitoring at all volume levels.
Features
A swivel mechanism allows for comfortable, long-term wear. An optimized magnetic circuit provides superior noise suppression and enables fine-tuning for elaborate, distinct sound management. A four-core, twisted-structure cable means that you can perfectly maintain channel separation, and the 40-mm driver enhances each track.
A redesigned housing reduces head pressure. The flexible headband and textured surface improve grip while maintaining comfort, while the swivel-based rotation permits multiple wear options.
---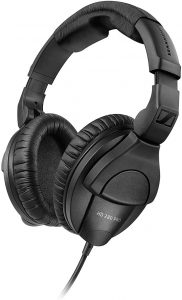 Overview
The Sennheiser HD 280 Pro is the pinnacle of closed, around-the-ear headphone design. This piece of futuristic DJ gear meets and exceeds professional DJs' demands and spurs newbies to new levels of achievement. The modular, collapsible design makes these headphones a take-anywhere, do-anything addition to your toolkit.
Features
Their high ambient noise attenuation enables aggressive noise isolation—a must in the field. Swiveling ear cups and soft ear pads deliver portability and a comfortable fit. A tough, single-sided cable stands up to the most intense use.
Enjoy accurate, linear sound reproduction and extended frequency response. You'll fall in love with the sound reproduction that comes across as warm and natural.
---
Overview
Pioneer's flagship DL headphones are their HDJ-X10 over-ear model that the company developed and refined based on input and feedback from professionals. The result is an enhanced DJing experience with the HDJ-X10. Enjoy crisp mid- to high frequencies and rich bass. Excellent channel separation makes these headphones perfect for DJ monitoring and mixing.
Features
A 50mm driver delivers high-resolution sound ranging from 5 Hz to 40 kHz. The bass-reflex chamber gives you enhanced, vibrant sound. Detachable cables provide ease of movement as well as portability–and they are simple and fast to replace.
The expertly engineered swivel mechanism provides for multiple wearing options. Polyurethane leather cushions the ear pads and headband, slowing deterioration with a unique nanocoating that wipes clean with ease. Choose from black or silver to align with your personal aesthetic.
---
What To Look For When Buying DJ Headphones
When purchasing DJ headphones, there are a few characteristics that stand out. By looking at each of these features, you will be able to find the right set of headphones for you.
Sound Quality
The first thing to look for in DJ headphones is excellent sound quality. Without crystal clear sound, you can't tell if your efforts are terrific or lacking. You need to be able to hear every single detail for world-class mixing.
Also, try to avoid headphones that have a flat frequency response. Although a flat response is ideal for producing, it can be fatiguing to listen to and will not work for DJs that play longer sets.
Comfort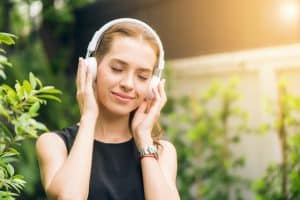 You'll also want to make sure the headphones you choose are comfortable since you'll be wearing them a lot. If your head or ears get sore, then you have headphones with a poor fit. You might be able to adjust the poor fit—common with cheaper headphones—with new earpads, but you don't want to have to keep changing out parts, so it's better to get a high-quality pair of headphones out of the gate.
With that being said, there are two main styles of headphones, which are on-ear and over-the-ear styles. While over the ear headphones often are better at blocking out the background noise, some people find them uncomfortable.
Noise cancellation is a huge factor when selecting DJ headphones. You'll likely be working in a noisy setting, with people talking and laughing, not to mention lots of background noise and motion. Muffling all of that will help you zero in on the sounds that matter for superior mixing and audio.
Fortunately, all of the headphones on this list are great at blocking out background noise, so stick to whatever version feels the best for you.
Wire Style
DJ headphones usually either come with a coiled wire or a straight wire. Although this sounds trivial, it makes a big difference for some DJs.
Coiled wires tend to have a little more reach than the standard straight wire. This is great because it gives you a little more room to move around in a DJ booth. Also, when you start to get further away you will notice the tension build up so you don't get too far. Unfortunately, coiled wires often grab onto things and get tangled easier.
On the other hand, straight wires don't get stuck on many thing. But they are often shorter and can yank the DJ mixer if you get too far away.
Single Ear Use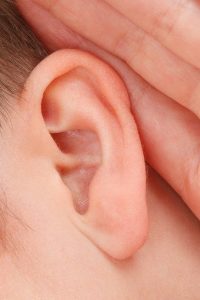 As a DJ, you are often listening to your headphones through one ear while listening to what is currently playing out of the main DJ speakers through the other. Because of this, different headphone models address this in different ways.
Do the ear pads swivel out of the way? Or do they rotate? Or is the band flexible so you can twist the ear pad away?
Finding what style works for you will ensure that you can be more comfortable so you can focus on your mixes instead of adjusting your headphones.
Conclusion
Headphones are probably the most personal of the DJ gear. No matter if you are at a club or a private party, most DJs always have their headphones.
This isn't always true for other gear since most bars and clubs already have their own setups that are complete with everything from DJ controllers and mixers to full sets of speakers. In this case you would just show up with your headphones and laptop or usb sticks.
By choosing the right headphones for you, if you treat them right, they will be with you on your journey for many years. From the beginner DJ in the bedroom, to the main stage festival DJ, these headphones in this article will do what you need day after day.