If you are looking for an all-in-one option to add to your collection of DJ gear, then you have come to the right place. This list of the best DJ controllers has several options to choose from that are a perfect mix of value and quality.
As DJs ourselves, we know what you want when looking for a controller. The ideal controller is a mix of value, portability, reliability, and innovation.
We own and have used these following controllers in our bar, club, and private gigs. And we did extensive research to help you find the controller that matches your style and gives you the tools to spin tracks all night.
Through experience, we have learned that not all DJ controllers have everything you need to breathe life into the party. Actually, to be honest, most of them are low-quality and a waste of money.
But have no fear, every one on this list is used by professional digital DJs in various settings.
Ultimately, in the end, choosing the right one that fits your needs is important. Therefore, we tried our best to make it simple so you can find the DJ controller that has the options that are important to you.
GetDJGigs.com is a community funded website. This post contains affiliate links. If you buy something from one of the links, it won't cost you anything more, but we may earn a small commission. We do our best to only recommend the best products for you and appreciate the support. 
---
The 7 Best DJ Controllers
---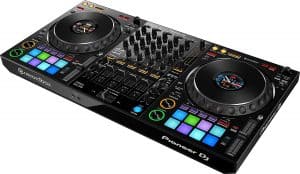 If you are looking for the overall best DJ controller, then this is it. In essence, you are getting all the value of the best DJ mixer on the planet, which is the Pioneer DJM-900NXS2, and the CDJ-2000NXS2 combined into one cost-efficient controller.
Pro level DJs worldwide use the Pioneer DDJ-1000 for their events and parties because it is feature-rich, reliable, portable, and has excellent build quality.
It is designed for use with Pioneer's Rekordbox DJ software, but there is also an SRT version for Serato users which is very popular. Also, people like that you can get the deck in different colors.
Overview
The DDJ-1000 is a medium-sized controller that contains the Pioneer design and features that you are familiar with.
First off, with dimensions of 27.87″ width by 2.89″ high and 14.23″ deep it is the perfect size for mobile DJs to carry around with them. At 13.23 pounds, its lightweight and portable design means you don't have to feel like you're lugging around a massive set to every gig.
At this size, it will even fit into some of the best DJ backpacks for easy transport.
Next, if you haven't noticed, it looks like the DJM-900NSX2 in terms of the layout, which will attract a lot of DJs. With this, it has four channels which allows you to manipulate and mix up to four songs at once.
Finally, this controller comes with capacitive jog wheels that are taken from the CDJ-2000NXS2, so you have that same quality feel as more expensive media players. Unlike the rest of the controllers on this list, the DDJ-1000 has integrated HD screens inside the jog wheels.
These screens display all the information you need like BPM, waveforms, hot cues, and playback time. Also, you can customize how these screens displays information, so you can find what works best for you.
Other Features
Another feature we like is the 14-Beat FX. With such diverse effects, this controller lets you experiment and be creative on the fly.
Also, with 16 multi-function performance pads, you get full control over the music with the ability to jump between hot cues, trigger samples, and even key shifting abilities to play new melodies in real time.
Next up, they included the durable Magvel crossfader which gives you over 10 million movements without breaking so you can get as adventurous as you want.
Don't think they forgot to add in analog inputs to this high-level controller. These allow you to further customize your setup by incorporating things like CDJs, midi controllers, and turntables for more adaptability.
Finally, to cap it all off, this unit comes with dual USB inputs and two headphone jacks for easy laptop changeovers in back to back sets, so you won't miss a beat.
Highlights
Same layout as DJM-900NXS2
Same jog wheels as CDJ-2000NXS2
Magvel crossfader
Options for Rekordbox DJ and Serato DJ users
Great value
Drawbacks
Not for Traktor Pro users
---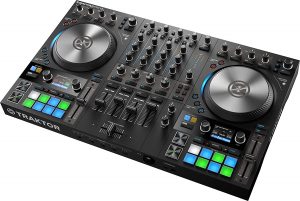 If you are in the market for a controller that is compatible with Traktor Pro software, this is the top of the line. This innovative piece of gear is taking controller DJing to new levels.
The Native Instruments Traktor Kontrol S4 gives you everything you need to unleash your creative side. Take the club wherever you go with this DJ controller's comprehensive controls and intuitive features when you mix across the left or the right deck.
Overview
First off, you will notice that it is a little smaller and boxier than the DDJ-1000. Although, still a medium-sized controller, it is definitely easier to move.
With dimensions of 21.34″ by 13.35″ by 2.38″ and weighing 9.46 pounds, it is lighter and smaller in size.
The next thing that sets this apart from other controllers is the motorized, touch sensitive jog wheels. That's right, I said motorized, which means they actually spin like turntables. Scratch DJs are blown away and have fallen in love with this feature.
This means, that you can nudge and backspin like you are playing vinyl. On top of that, these jog wheels allow the flexibility to adjust the torque, so you can have the exact tension that fits your style.
But since they can operate in three different modes, they can act like traditional jog wheels and be stationary if you want.
Next up, you will notice color displays above the midi pads that show your waveforms, looping, and more. This way, you don't have to keep looking at your laptop.
Finally, this is another four channel controller. So you have the ability to use four decks for ultimate control of your DJ sets.
Other Features
With the Native Instruments Traktor Pro 3 software, you get better sound, an improved audio engine, hot cues, Flux Mode, and the chance to expand your entire soundscape. In addition, with an integrated, club-grade 24-bit/96kHz audio interface, you have external input for every channel.
Next up, we have Mixer FX. This feature enables you to control different effect options like filter, reverb, delay, and everything else you need to match the mood of your surroundings by twisting one knob.
Another innovative feature on this control is carbon protect faders. With the Traktor Kontrol S4 you don't have to worry about bumps or spills because these faders reduce potential damage from liquid and dirt.
Finally, they have included two mic inputs and dual USB ports for easy changeovers. Often, wedding DJs love having the versatility of two microphone inputs.
With all these features, it is clear why the Native Instruments Traktor Kontrol S4 has made its reputation as the best DJ controller from Native Instruments. Its user-friendly interface makes it perfect for beginners, while more experienced DJs love its versatility and advanced options.
Highlights
Haptic Drive motorized jogwheels
Carbon protect faders protect from moisture and dirt
Dual mic inputs
Drawbacks
Not for Serato or Rekordbox users
---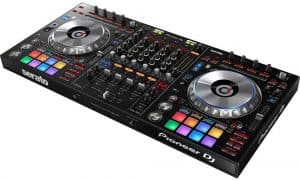 The Pioneer DDJ-SZ2 offers the best modern DJ control technology. With a large sized controller, you have all the controls you could dream of and way more than you could do with a smaller controller.
This controller is very popular in clubs and bars due to its large pads and jog wheels.
You'll see as soon as you open the box that this machine was designed for professionals.
Overview
Immediately you will feel the quality when you use the Pioneer DDJ-SZ2. Compared to the other cheaper options, this controller feels solid. You will notice the aluminum construction of the platters and the deck.
One thing that most DJs immediately notice is that the platters feel amazing. Maybe it is the large size, or maybe it is the aluminum construction. It is hard to pinpoint, but it is clear that they feel incredible, and scratch DJs love them.
With better jog wheel latency than previous Pioneer models, the DDJ-SZ2 means you get scratching sounds that mimic actual vinyl.
Also, with Jog Feeling Adjust, you can create the resistance that works for you so you can get the feeling of the platter that is most comfortable for you.
Next up, the sound is incredible compared to other controllers. It's got a high-performance D/A converter from Cirrus Logic Incorporated which is low-jitter, which in the end means loud and clear sound at all times.
Finally, the large backlit performance pads make it easier for you to remember them and keep an eye on the modes you have playing. Hot cues, roll, slicer, and sampler are the four options to use on the pads. Many DJs prefer the large pad because of the spacing and the way it feels when pressing it.
Other Features
This mixer has all the traditional features like key shift, key sync, and pitch play tools so you still have the ingredients you need for spontaneous mixing.
Similarly, the Needle Search function helps you find any section of the song you need, but having a larger version helps with moving through tracks efficiently.
Next, the pro oscillator lets you overlay your track with samples like lasers and sirens. It comes with a dial that allows you to modulate texture. Speaking of Serato, the Pioneer DDJ-SZ2 comes with Pitch n' Time and Serato Flip expansion packs for more features you can use immediately without paying more.
Finally, with Magvel faders, the contact-free magnetic system ensures that it will hold up over time and flawlessly switch between decks.
This controller was clearly was built to last and designed with the professional in mind. In the end, we dropped it lower on the list because it is difficult to transport and comes with a higher price tag, so it might be better suited for a permanent install in a bar than for mobile DJs.
Highlights
Solid build
Large platters and pads
Lots of space
Drawbacks
Harder to transport due to large size
More expensive than other options
---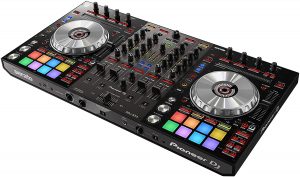 With four decks, plenty of cue points, and its Flip function, the Pioneer DDJ-SX3 has more features than the SX2. It's a great controller to explore, whether you're new to the scene or have been mixing for years.
Overview
The SX3 has jog wheels for superior timing, excellent grip on the knobs, and accessible cue points for you to switch things up fast. Multicolor touch pads mean you can learn its setup quickly and mix by touch rather than looking for one monochrome button among dozens. Its 64-bit system outshines the SX2's 32-bit version, so you have a robust song library.
This DJ controller supports other DJ platforms. It comes with Serato Flip and Pitch n' Time expansions, so you don't have to purchase these advanced features separately.
It also has a mic input terminal, which is crucial these days. With a portable and modern design, you can take this controller anywhere.
Other Features
This controller comes with a practice mode that lets you match up and mix songs while watching TV or traveling to your next gig. Likewise, Sound Color FX allows you to create live mixes on a whim.
This DJ controller feels like industry-standard mixers and works well for new DJs and old school pros. It has versatile and flexible equipment that you can adjust to your level and preferences.
The few complaints we found about this controller mentioned recalls for defective units. Some users have trouble with the controller shutting down mid-gig.
Highlights
Great entry level controller
Easily portable
Cheaper price tag than other controllers
Drawbacks
Feels cheaper than more expensive units
Only 1 USB input
Can't control jog wheel tension
---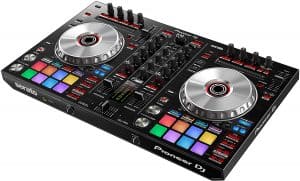 The Pioneer DDJ SR-2 is the best DJ controller for anyone who is looking for a high-quality entry level controller, or has even moved past the beginner level but wants a reliable piece of gear at a decent price.
Overview
First off, you will notice that this is the first two-channel mixer in this buying guide. Although it lacks the versatility of mixing four tracks at once, an added benefit is that this controller is more compact in size.
With jog wheels for plenty of rotation, eight performance pads, and a visual beat indicator, you have everything that you ned at your fingertips. This controller even has controls explicitly made for its included Pitch n' Time and Serato DJ Pro.
The Pioneer DDJ SR-2 is one of the most portable DJ controllers at 8.1lbs.
Other Features
With functionality adapted to Serato DJ Pro, this controller gives you some of the most harmonic mixing thanks to Key Sync. It has fine-tuned resistance on the jog wheels, but you can't adjust that resistance as you can with some newer controllers.
Some users have had issues with the jog wheels not reacting to touch. While Pioneer claims the jog wheel problem relates to grounding issues, many people have seen the issue happen randomly and in various environments.
Highlights
Quality lightweight entry-level mixer
Still has all the main features on other more expensive Pioneer controllers
Drawbacks
Only two channels
Plastic build
---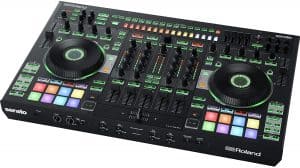 In this Roland DJ-808 controller, Roland decided to up the game in a completely different way. They brought the features of their classic 808 drum machines and added it to a fully-functional DJ controller.
This controller makes it easy to do live re-drums and remixes, which will give your sound a unique feel.
Overview
This controller features a built-in Roland TR drum machine and sequencer with samples from the 606, 707, 808, and 909 drum machines.
In essence, this controller brings customization to a whole new level.
You can customize your mix on the fly with velocity-sensitive RBG color pads that come equipped with Hot Cues, roll, TRS, and more. The expansion and I/O can match any DJ's unique style, and the two AIRA Link USB ports allow you to add more devices to change things up.
With ultra-low-latency and full-color visual displays, the Roland DJ-808 has nearly one-to-one control over four decks. It comes with a built-in VT voice transformer with pitch, formant, ducking, and key matching with the Serato Sampler.
The DVS-ready audio interface lets you go way back and use time-code vinyl for an authentic old school sound with new-age equipment.
Other Features
The ultra-low latency gives you precision scratching and exceptional sound output for all venues, from clubs to weddings.
With a 4-channel mixer and 24-bit/96kHz audio interface, you've got the power and adaptability to command the room.
Users love the accurate platters for quality scratches, but some want to see more drum options on the built-in drum machine. Others have had complaints about the play button freezing or not working.
---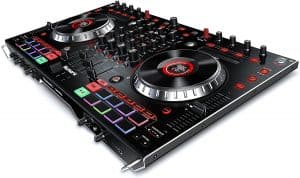 The Numark NS6II makes a solid entrance for DJs ready to take the next step into more pro gigs without too many fancy upgrades. It works with various types of DJ software, including Serato. With all its connectivity features, you have a versatile controller with this model.
Overview
Experienced DJs will fall in love with this setup's four channel controller and capacitive 6-inch multifunction jog wheels. You have a 100mm pitch fader, Serato DJ with the upgrade for Serato DJ DVS, and HD displays to keep you connected with your music.
When it comes to connecting, you have two USB ports to link the controller with two laptops. It also has two phono/line inputs, so you can mix without software and play music with every device from vinyl to CD players.
Other Features
The Numark NS6II has an intuitive interface with plenty of different controls. It's great for DJs who want to upgrade without spending too much, but there are some downsides.
Some users find that that pitch adjuster sliders respond slowly on Macs, and it doesn't always work as well with Serato as the manufacturer suggests. Plus, you might run into some broken parts, such as the knobs, which aren't easy to replace.
---
Why Buy a DJ Controller?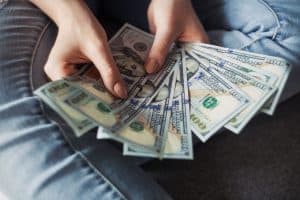 There are two main reasons that someone would buy an all-in-one controller instead of a DJ mixer and external devices.
First off, DJ controllers are a lot more convenient. If you are a mobile DJ, you know that lugging around a mixer and a pair of turntables can be quite the task. When you combine them with DJ speakers and other stuff, it can add up quickly. On top of that, setting them up takes time as there are a lot more interconnections.
On the other hand, DJ controllers are lightweight option that is easy to setup and start playing. For many mobile DJs, this is really helpful. This is also a reason that many DJs bring a controller with them as a backup in case their main gear breaks.
Secondly, DJ controllers are a lot more affordable than their counterparts. By the time you purchase a mixer and turntables or CDJ's, you are easily spending several thousand dollars for the complete setup.
On the other hand, some of the controllers on this list are less than a thousand dollars. This makes them great for beginners who do not have a large budget.
What Should I Look For When Buying a DJ Controller?
When trying to find the right controller for you, there are several things that you should keep in mind. Let's take a look at each of them individually.
The Size of the Unit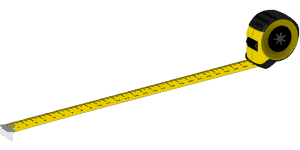 First off, when you are shopping for a DJ controller, keep in mind the size of the specific one you are interested in. Like anything, they come in all sizes and variations. If you are going to be moving it around a lot, or need it to fit in smaller spaces, then try to focus on the lightweight and smaller choices.
But if you don't mind having a bigger controller, it is nice to have larger jogwheels and larger buttons.
What Software it is Compatible With
Secondly, if you are set on using one of the best DJ software programs like Serato or Traktor Pro, make sure that the controller you choose is compatible with it. This will make for an easy transition so you can just plug and play if you already use that software.
If you switch to a unit that supports a different software, you will have to import and set up all your crates. Also, you will have to learn a new software, which could be a good thing in the end.
Either way, it is something to be mindful of.
Price
Finally, find a controller that is within your budget. These devices range in prices depending on what you are looking for. Generally speaking, are you go up in price the controller is made of higher quality materials and is more durable.
Conclusion
Whether you are looking to use it as your primary piece of DJ gear, or intend to use it as a backup, DJ controllers are a great addition to any setup. These lightweight and economical all-in-one units have come a long way and are used by many professional DJs.
All in all, we have listed controller options for every level of DJ. In the end, they are a lot of fun to play with and sound amazing.