If you are looking for a better way to transport your DJ gear, then the best DJ backpacks that we have included in this article will definitely help you.
Look, we know that having easy access to all your stuff is important for every DJ gig. And having a laptop bag or a school backpack will get all your digital gear from point A to point B.
But a DJ backpack is so much more.
The best DJ backpacks are full of innovative features that help it to act as an organizer, a protector, and a travel bag. So, not only do you get your equipment to your gig, but you get it there organized and safe too. Because it is a pretty bad feeling when you show up to a gig and find out that your headphones broke in transit.
Not only that, but when you show up to a gig looking like a professional, the clients will treat you like one. And nothing beats a first impression.
Check out the list below.
GetDJGigs.com is a community funded website. This post contains affiliate links. If you buy something from one of the links, it won't cost you anything more, but we may earn a small commission. We do our best to only recommend the best products for you and appreciate the support. 
---
9 Top DJ Backpacks
---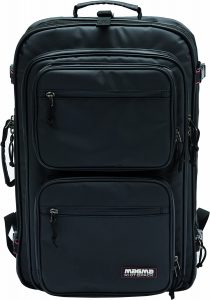 Overview
Although this top of the line Magma Riot DJ backpack is the most expensive bag on the list, they make the price worth it with some premium features.
The first thing that you will notice is that it is a large backpack. Although that may be a turnoff to DJs who are looking for a more compact bag, it has plenty of room for carrying all your gear.
Most mid-size mixers from our best DJ mixers page, like the Kontrol Z2, will fit nicely inside this pack. It also has a separate padded laptop compartment that will hold up to a 17″ laptop. Most of the other bags will only hold laptops that are 15″ or less, so if you have a large laptop then this might be the backpack for your straight out the gate.
Secondly, your equipment feels super safe inside this bag. That is because it is built out of heavy duty, waterproof Tarpaulin material. We all know how we want to avoid water from getting to our gear, so you can be comfortable wearing this backpack in the rain. They even went the extra mile and made the zippers waterproof also.
They didn't leave anything out when designing this bag.
Finally, it is sturdy and built to last. This way you know you won't be throwing your hard earned money down the drain and as you will be using this backpack years down the road.
Highlights
Large backpack can hold all of your gear and a medium-size mixer
100% Waterproof
Holds up to 17″ laptop
Drawbacks
---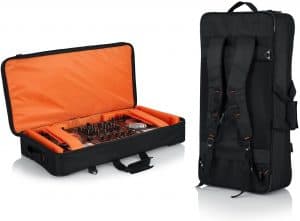 Overview
This extra large bag is a controller case and a backpack all in one. Usually DJs would carry their DJ controller in a flight case or a soft case, and then a separate backpack. But if you aren't flying with your gear, this solution enables you to carry everything on your back.
This amazing bag will hold some of the best DJ controllers up to 27″. Some users that like this bag transport their DDJ-1000 and DDJ-SX3 inside this bag and say that it fits perfectly.
Aside from that, we really like the way this bag is organized. It has separate padded laptop and laptop stand sections. It also has two large pockets on the front side where you can stash your headphones and other accessories.
Finally, it can be carried like a bag with the handle on the side, or you can easily use the heavy-duty, pop-out shoulder straps to put it on your back.
Highlights
All in one controller bag and backpack
Easy to organize and store all your gear
Lots of padding to offer protection
Drawbacks
---

Overview
This medium size backpack with compartments for everything delivers a ton of value. Odyssey has been building flight cases for DJ equipment for years, so they know how to store gear for traveling.
Since this is not as large as the previous two options, don't plan on carrying your controller or bigger mixers in this backpack. This bag is more for the DJ who is showing up to club and bar gigs with your laptop because all the rest of the gear is already in place. Or maybe you have your gear in a flight case and carry it separately.
That being said, there is enough space for small midi controllers and small DJ controllers.
We especially love that this bag has separate padded compartments for all of your gear. There are dedicated sections for your laptop stand, laptop, wires, and even your water bottle. There is even a separate headphone pocket.
It really shows that a lot of thought was put into the design of this product.
Highlights
Organization is a breeze with so many padded compartments
Water bottle holder
Holds a lot of gear
Drawbacks
Not Waterproof
Not able to carry medium and large mixers and controllers
---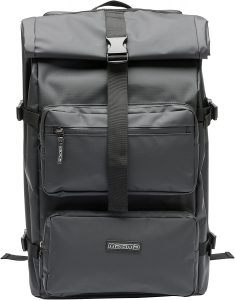 Overview
This versatile backpack from Magma has a unique twist on this piece of equipment. As you probably read in the title, it has a roll top, which makes it different from most other bags.
Why a rolltop?
The rolltop enables you to adjust the height to fit different size equipment inside. With it fully extended, it has plenty of interior storage space so you can fit most medium-size controllers inside like the DDJ-SX3 and the Kontrol S4. If you are going to be stashing a controller in this bag, they recommend to put it in a Magma CTRL case to ensure it is fully protected.
Another feature of this bag is a separate waterproof zippered laptop compartment that will fit laptops up to 19″. Also, it has two external front pouches for headphones, hard drives, cables, and microphones.
What we really like about this backpack it that it is lightweight and possibly the most comfortable option available.
Highlights
Rolltop style extends to fit medium-size controllers
Super comfortable
Weatherproof and durable
Drawbacks
Wish it had more of a rugged frame to offer crush protection
---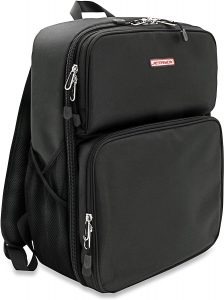 Overview
This DJ backpack from Orbit Concepts might be exactly what you are looking for.
This stylish bag is designed with the traveler in mind who carries electronics. Its outer shell is waterproof so you know that your equipment will stay dry.
With a large main compartment, you can fit things like the PT101 or similar sized items. Inside, there are also sleeves where you can store 7″ vinyl or CDs.
On the outside there are two front pockets to fit all your accessories. Some people even say you can fit 13″ Macbook pros in the larger front section.
The jetpack also features netted side pockets for things like water bottles for easy access while on the go.
Finally, this bag is pretty durable. Featuring heavy-duty shoulder straps, strong buckles, and a rip stop lining, you know that it was built to last.
For high-end consumers or DJs that live the jet-set lifestyle, this would make an excellent choice.
Highlights
Waterproof nylon outer shell
Big main compartment
Sleek and durable
Drawbacks
No specific laptop section
---

Overview
This is the backpack that I use because this medium-size, rigid form backpack is an excellent all around bag.
The first thing you will notice is the outer shell. Although not completely solid, it is rigid enough to withstand impacts and still maintain its form. This is especially useful in the crush-proof front pocket for storing DJ headphones and other things like hard drives and microphones.
Also, in the front pouch are different pockets for other accessories.
Since it is a medium size bag, it is not meant for mixers, but it does fit 15″ laptops, laptop stands, vinyl, and smaller audio devices with room to spare.
I also like that this nylon bag is water-resistant, so you know that when walking in the rain and the snow that your digital electronics will stay dry. Also, the durable handle is a nice bonus.
I have had this bag for 8 years and it has stood the test of time. Some small plastic parts have broken like the chest stabilizer strap. Otherwise it has held up really well.
Highlights
Semi-rigid form helps protect contents
Water-resistant
High-density internal cushioning
Comfortable to wear
Drawbacks
Can't carry controllers and mixers
Plastic parts may break
---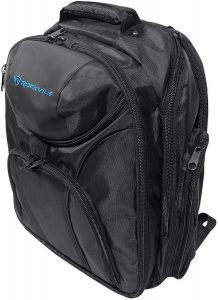 Overview
With the lowest price option in this buying guide, this DJ backpack from Rockville is a really nice entry level backpack. With different sections for your laptop, stand, and headphones this backpack does the job it was meant to do.
It also can carry various small devices and controllers. For a full rundown of compatible items it will fit, check out the full product page.
Since we are getting out of the top 4, and into the lower price category, be aware that some of the features on this backpacks can be lower quality. For example, some people have had issues with the zippers breaking on this.
All in all, this is a great entry level backpack, just don't expect it to last as long as the more expensive options.
Highlights
Many padded compartments
Affordable
Drawbacks
Not the most stylish
Not waterproof
Some users report quality issues
---

Overview
If you are looking for a crush-proof and watertight backpack, this one from Pelican is a great option. Although this backpack was designed for camera gear, some DJs have also used it to transport gear.
For DJ's that need extra protection from harsh environments, you will know that your gear is safe inside here. With the ability to customize the interior it can fit a variety of different equipment.
Best of all, it fits under your seat if you are frequently flying in planes.
Highlights
Crushproof case that is water tight
Convenient for airplanes
Drawbacks
Designed with camera gear in mind
Expensive
---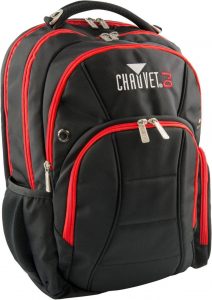 Overview
If you thought that Chauvet DJ only did lighting, think again. This backpack from Chauvet has the perfect amount of pockets to organize everything efficiently.
Unfortunately, not many of the lights on our best DJ lighting page will fit in this backpack, some of the smaller ones like uplights and wash lights will fit. On the other hand, it does fit most laptops up to 15″. One of the cool features is that it has a pocket for your phone with a pass through audio cable to listen to music on the go.
It also has quick release key rings to store your keys or usb sticks, which will definitely appeal to some DJs.
As mentioned above in other reviews, some users do report quality issues. So, be aware that you might run into things like stitching coming apart before you buy it.
Highlights
Plenty of padded pockets for accessories
Lightweight (2 lbs.)
Drawbacks
Some users report quality issues
One of the smallest backpacks on the list
---
Why Buy a DJ Backpack?
If you are just a bedroom DJ, you obviously do not need a DJ backpack. But if you are planning on taking on gigs and need to frequently move around your DJ gear, a high-quality backpack is essential.
Here are the main reasons to buy a DJ backpack.
1. Keep Everything Together
When you are constantly moving equipment around, it is easy to misplace items. Or forget them at home.
And there is no worse feeling than showing up to a gig only to realize that you forgot a key piece of equipment at home.
By having a dedicated DJ backpack, you can organize all your gear in a specific way so you always know where it is. This way, when you are done using it, it goes right back into its place in the backpack.
This may seem silly to beginners, but trust me, it really matters. When you are doing mobile gigs with lots of equipment, there is a lot to remember. Anything that you can do to consolidate equipment and reduce that mental checklist will make your life so much easier and efficient.
For example, if you carry your wires, headphones, adaptors, cables, microphones, hard drive, usb sticks, power cords, laptop, and stand inside your backpack, all you need to remember is to bring one thing instead of nine.
2. Protect your Equipment
Your equipment is safe at home. And relatively safe when it is in use. (Keep those drinks away from the electronics) But it is really vulnerable while in transit.
So, you want to do everything you can to take care of your equipment and protect it while you are moving it. The best way to do this is to travel with your different items in cases and a backpack.
A DJ backpack will go a long way in protecting your investment by keeping your things from getting wet and broken.
Should I Buy a DJ Backpack?
Buying a high-quality DJ backpack is a smart decision for most mobile DJs, but they are not for everyone.
Different DJs have different schedules, travel preferences, and types of gigs. So only you know if a backpack is right for you at this point in your career.
If you feel that having a lot of your small pieces of gear in one place that you can carry on your back will make things easier for you, then the answer is probably yes. Either way, with so many different styles and options, it is easy to find the right one for you.